Update:
If you are using Ubuntu 8.04 LTS "Hardy Heron" or Ubuntu 8.10 "Intrepid Ibex", use the packages in the
PPA of the Ubuntu Emacs Lisp team
, instead of the packages referenced here. For Ubuntu 9.04 "Jaunty Jackalope" and newer, use the packages in Ubuntu repositories.
Emacs is my editor of choice. In fact, I should say it's my framework of choice, but that's for another post. Until recently, I disliked the poor font backend of Emacs. So, I was always using Emacs within a terminal window to get a decent looking interface. However, this grungy font era is over, since Emacs's hackers added recently to my favorite editor a XFont backend, thus making possible to use good looking fonts, like Bitstream Vera Sans Mono.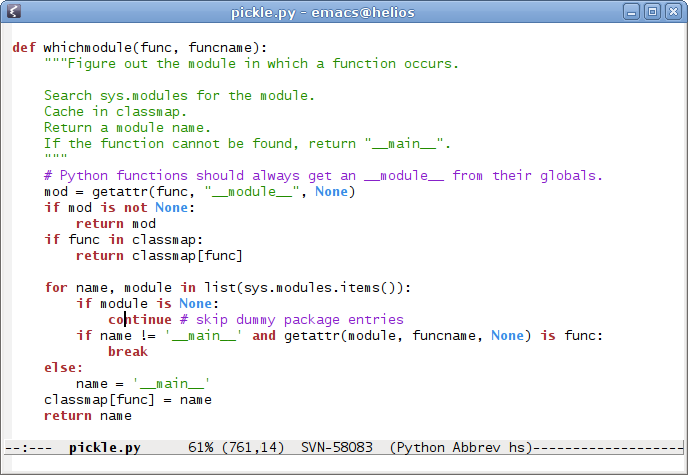 I made a package that makes the installation, as painless as possible. So, feel free to use it. However, please note that this is an alpha release of Emacs, therefore it should only be used for testing. (From my experience, it's rock solid.)
Still interested? Then, here the instructions. First, add my repository into your software source list, by adding the following lines to /etc/apt/sources.list:
deb     http://ppa.launchpad.net/avassalotti/ubuntu feisty main
deb-src http://ppa.launchpad.net/avassalotti/ubuntu feisty main

If you are running Ubuntu 6.10 (Edgy Eft) or the current development version of Ubuntu (Gutsy Gibbon), change feisty for edgy or gutsy.
Finally, run either apt-get or aptitude to fetch and install the packages:
sudo aptitude update
sudo aptitude install emacs-snapshot emacs-snapshot-el

Now, you need to specify the font you want to use in your Xresources file.
echo "Emacs.font: Monospace-10" >> ~/.Xresources
xrdb -merge ~/.Xresources

Here, I use the default monospace font, but any other monospaced font should work too. For example, if you want to use Lucida Sans Typewriter instead, change Monospace-10 for Lucida Sans Typewriter-10 in the above command.
And that's it! Now, launch Emacs and enjoy the good looking fonts.
If you need support with the package, just email me at alexandre@peadrop.com.
Update: Il y a, maintenant, une version en français de ce guide sur le wiki de Ubuntu-fr.